Administrator
Staff member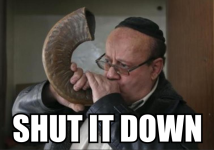 The Mayor of Sacramento gets Roasted on Live T.V. With tons of people calling him out. Almost twenty minutes of callers calling in and calling him a "Kike", "Baby Penis Sucker" and lots more.. of course, the Kikes at Council attempt to silence everybody according to Jewish preference.
Aryan Nations hit Sacramento a couple years back, real hard, and blasted them Kikes. Everybody, just keep exposing the Jews for who they are; the descendants of Satan. Them and their non-White hordes, flooding our once fair land, to attempt to destroy us Aryan-Christian's in our Aryan Nations.
Be sure to share this video with others.
HAIL WHITE VICTORY!
CLICK HERE
to watch the video
Last edited: