Administrator
Staff member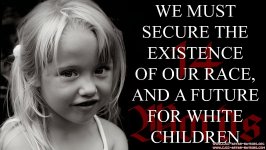 Why do we spend so much of our time attempting to awaken our race to the knowledge of its impending doom? Especially when so many of our race could care less and actually hate us for what we do, the things we say and the things we believe. Why do we do it? Why do we devote our lives to working towards releasing our people from the quagmire that they have permitted themselves to sink into? Especially when over ninety percent of our race doesn't care, even to the point of hearing about it, let alone actually taking action against it? Why do we sacrifice our own families happiness, our own jobs, our own financial independence, physical safety and freedom. All the while hoping/praying that someday a people, who would rather sit on the couch, scratch and watch a gang of highly overpaid black athletes, would wake up and help to drive the forces that seek the lives of their young into the sea? The only answer that I can come up with is a twofold answer and that is "love" and "duty"...Love of God and the race that He created in his image. The love of the bright youthful Aryan eyes of a child. A child so bright with learning and wonder. A child so intelligent, so full of potential. And the love of a God that could and would create such a precious being. And a duty to that God for the gifts that he bestowed upon our people. A duty that he entrusted into the hands of the Aryan. A duty to protect, nurture and guide that race of beings into the greatness that is so prevalant in its genes...You see brethren I believe that we have that duty mandated to us by God...YHVH says in Deuteronomy chapter 28...
1: And it shall come to pass, if thou shalt hearken diligently unto the voice of YHVH thy God, to observe and to do all his commandments which I command thee this day, that YHVH thy God will set thee on high above all nations of the earth:
2: And all these blessings shall come on thee, and overtake thee, if thou shalt hearken unto the voice of YHVH thy God.
3: Blessed shalt thou be in the city, and blessed shalt thou be in the field.
4: Blessed shall be the fruit of thy body, and the fruit of thy ground, and the fruit of thy cattle, the increase of thy kine, and the flocks of thy sheep.
5: Blessed shall be thy basket and thy store.
6: Blessed shalt thou be when thou comest in, and blessed shalt thou be when thou goest out.
7: YHVH shall cause thine enemies that rise up against thee to be smitten before thy face: they shall come out against thee one way, and flee before thee seven ways.
And I, as child and a servant of the Most High YHVH, have a duty to be a messenger and a warrior concerning that fate. The fate that will befall us as a race whether we choose to obey or whether we choose to disobey...What ever it is, I believe that I have a duty to God and to you my brethren, to warn you of the wrath to come.
YHVH says in Ezekiel chapter 3...
17: Son of man, I have made thee a watchman unto the house of Israel: therefore hear the word at my mouth, and give them warning from me.
18: When I say unto the wicked, Thou shalt surely die; and thou givest him not warning, nor speakest to warn the wicked from his wicked way, to save his life; the same wicked man shall die in his iniquity; but his blood will I require at thine hand.
You see what YHVH has spoken. He has spoken these words to us all...Remember the question the devils child Cain possed to YHVH in the garden when YHVH asked about his brother Able? Cain got smart with God and said "Am I my brothers keeper?". Naturally Cain being a literal child of the Devil didn't understand. But brethren the answer to that question is YES! You are your brothers keeper...YHVH told Moses to command unto the children of Israel in Exodus chapter 19 verse 6..."And ye shall be unto me a kingdom of priests, and an holy nation"...He meant for us each and everyone to know him and to take what he says to heart. To act upon his words. Jesus said "I am the way the truth and the life" He said that "No man can come unto the father but by me" And YHWH also says that "faith without works is dead"...He told his disciples that if they had not a sword that they were to sell their cloaks and buy one. Why? Because he knew of our impending doom. He knew that the day would come when WE his Saints would need that destroying weapon in hand...To execute vengeance upon the heathen and punishments upon the people. To render unto this Babylonian system and all its filthy inhabitants justice for all the evil that they have performed in our sight. And they do. They hide not. These filthy devils in government who spend your hard earned tax dollars to pay pimps and kidnappers to heist the finest of Aryan women to take to Palestine and sell into slave labor of forced prostitution to be used for their filthy lusts! They hide it not!
DUTY! This is the answer to the question "Why do we do it?"
Duty to YHVH and Love for our people and God...But a white hot hatred for the evil that seeks our loved ones lives...
Paul said in his letter to the Ephesians chapter 6...
11: Put on the whole armour of God, that ye may be able to stand against the wiles of the devil.
12: For we wrestle not against flesh and blood, but against principalities, against powers, against the rulers of the darkness of this world, against spiritual wickedness in high places.
13: Wherefore take unto you the whole armour of God, that ye may be able to withstand in the evil day, and having done all, to stand.
14: Stand therefore, having your loins girt about with truth, and having on the breastplate of righteousness;
And Jesus our Christ says in Luke 19:27...
"But those mine enemies, which would not that I should reign over them, bring hither, and slay them before me."
Remember in Luke 22:36 the sword Christ told you sell your garment to buy? Keep it honed to a razor sharpness, and close at hand brethren; Duty Calls!
By Christ Our King!
Hail His Victory!
Last edited: